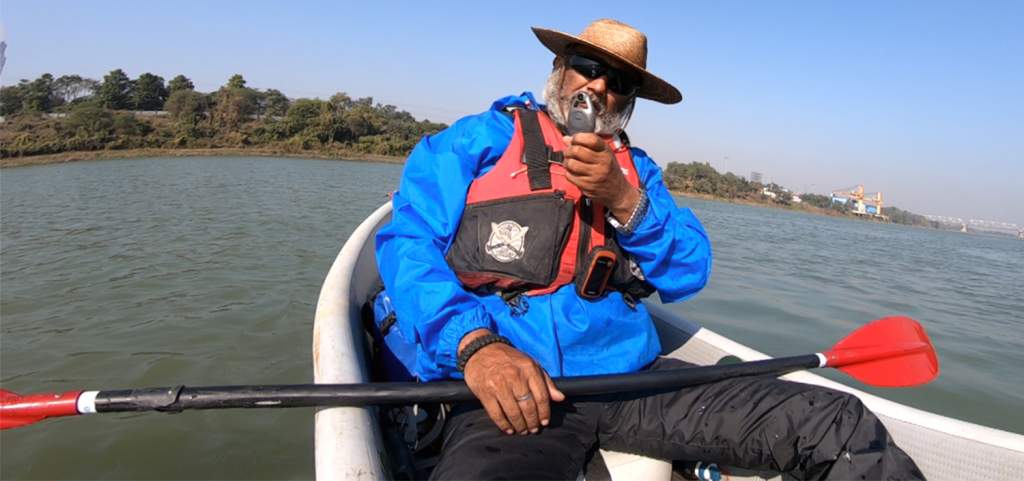 After spending nearly two decades in advertising and communications, Chandan gave in to his passion for adventure and exploration. Son of a Lieutenant General, a Green Beret and an Olympic level footballer, he imbibed the passion for sports and adventure from a very young age.
In fact, his father Lt Gen MK 'Mike' Lahiri, PVSM was one of the first officers from the Indian Army to be trained at Fort Bragg, North Carolina in jungle warfare to become a Green Beret. Thereafter he started the Commando Training Wing for the Indian Army. He was also the Commandant of the famed Counter Insurgency and Jungle Warfare School that trains soldiers from the Indian armed forces and from around the world, in jungle survival and warfare. Chandan has spent many nights with his father when the soldiers were undergoing training in the leech infested jungles in the north east of India. His interest in sports, adventure, survival and self-reliance were inherited from his father.
In 2002, Chandan hung up his tie and Oxford shoes to pursue his passion for adventure and exploration by starting OutThere Adventurers, India's first event ideation firm focussed on developing and promoting adventure sports, events, tours, expeditions and other related activities.
Chandan's adventures:
→ In Dec/Jan 2002-03, he undertook his first major Expedition. A team of three motorbikers went around India over a period of 38 days and nearly 12,000 km. As Chandan loves to repeat, "Over the 38 days we did not see the inside of a hotel room!"
→ In Jul 2003, he led a team of ten motorbikers on a 14-day expedition to Ladakh and travelled on roads seldom frequented. Some opine that this team was the first one to motorbike from Tso Moriri to Pang via Tso Kar.
→ On Oct 2, 2003 he undertook a solo motorcycle expedition to Ladakh and created a new, and achieved his first world record, by traversing three of the world's highest passes in 14hrs44 riding at altitudes of over 15,000 feet.
→ On Aug 31, 2004 he led a team of six motorbikers across four of the world's highest roads in 23hrs25 to earn his second world record. In fact, it was during this expedition that civilians in general and adventure motorbikers in particular heard of the 18,638 feet high Marsimik La, the highest motorable road in the world ... higher than the more popular Khardung La.
→ Twice he has spent 30 days alone in the wilderness showcasing survival skills and turning that entire experience into a self reliant one. The videos of the experience can be viewed by clicking the thumbnails below ...
→ Paddling down the Ganges in a cataraft made out of PVC pipes (details here)
→In 2018/19 he paddled a canoe solo down the Ganges, from Haridwar to Calcutta. The video is almost ready to go live, and you'll be able to watch the incredible journey here. (details here)
He has some major expeditions lined up for the next year:
→ Paddling down the Holy Ganges in a boat made of trashed plastic bottles (details here)
→ Paddling 275km in a canoe to better a Guinness World Record of the farthest distance canoed on flat water in 24 hours (details here)
→ Paddling 500km in a canoe to better a Guinness World Record of the farthest distance canoed on flowing water in 24 hours.
→ Spending 30 days floating in a life raft demonstrating sea survival skills (details here)
→Paddling around 7,000km along the coast of India, from Koteshwar (Gujarat) to Kolkata (West Bengal) (details here)
→ Paddling down 6,000km of the Amazon river, become the thirteenth person in the world and the first Asian to do so and better the existing Guinness World Record in the process (details here)
He is also taking a range of Courses run by the Federal Emergency Management Agency (FEMA) under the Department of Homeland Security, USA. He has already been awarded two certificates.
He has also complete the online awareness workshop conducted by the Leave No Trace Center for Outdoor Ethics, USA.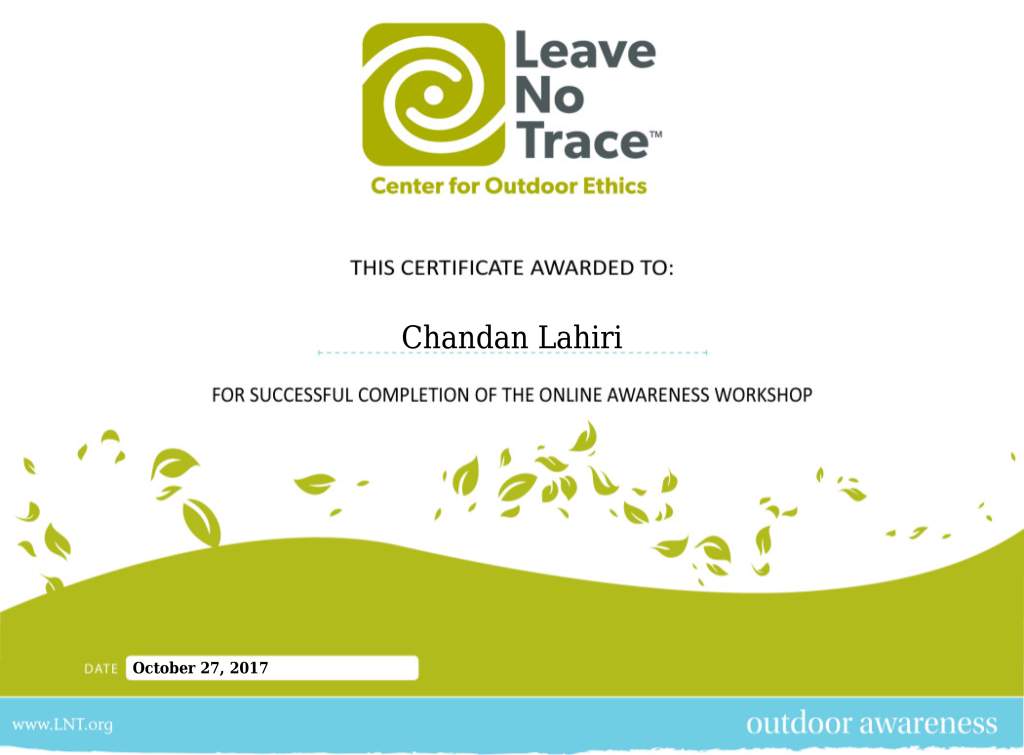 Chandan did put extreme adventures on the backburner after his near fatal motorcycle accident in the winter of 2006. He lived with a shattered knee for eight years before getting a total knee replacement surgery performed in 2013. As he says, "I have grown almost three inches in stature" referring to the straightening of the knee after the replacement surgery! But you cannot keep adventures out of his life, though people try very hard to do so!
He continues on his merry ways exploring and adventuring with a prosthetic knee ... not that anyone would notice. For him, disability is a reality, not something that should make anyone shy away from living a full and adventurous life.
He now runs the OTA Survival School to train people for a safe outing in the wilderness. His aim is to try and ensure that people living in eco sensitive regions of the country are trained in survival and self-reliance to be able to take care of themselves in case of natural disasters and calamities that hit the country so very frequently, often resulting in fatalities. If these people were trained and equipped, many could possibly have survived and the survivors might have had a safer and more hygienic time while waiting for rescue to be effected.
By the way, in April 2015 he visited the offices of Limca Book of Records and lit 35 cotton ball tinders in 60 seconds ... and earned yet another world record.
An explorer and an adventurer, Chandan is an avid photographer, travel writer and documentary film maker. His passion statement is "Only those who risk going too far can possibly know how far they can go!"
He is based in New Delhi along with his wife Indrani, two daughters, Priyanka and Pallavi and son-in-law Anubhav.
He has also written and published a detailed and comprehensive book - WILDERNESS SURVIVAL HANDBOOK - that has been very well received by readers from around the world. His second book ... or rather Dictionary ... is a compendium of words, terms, phrases, acronyms, concepts, etc from the outdoor world. The PSYCHOLOGY OF SURVIVAL deals with some of the emotional pressures people face when faced with a stressful situation like in a survival scenario. A SLOW BOAT DOWN THE GANGES is a travelogue of a solo canoe paddle down the Ganges, from Haridwar to Calcutta.
Click on the links below to buy the Kindle editions of the books.