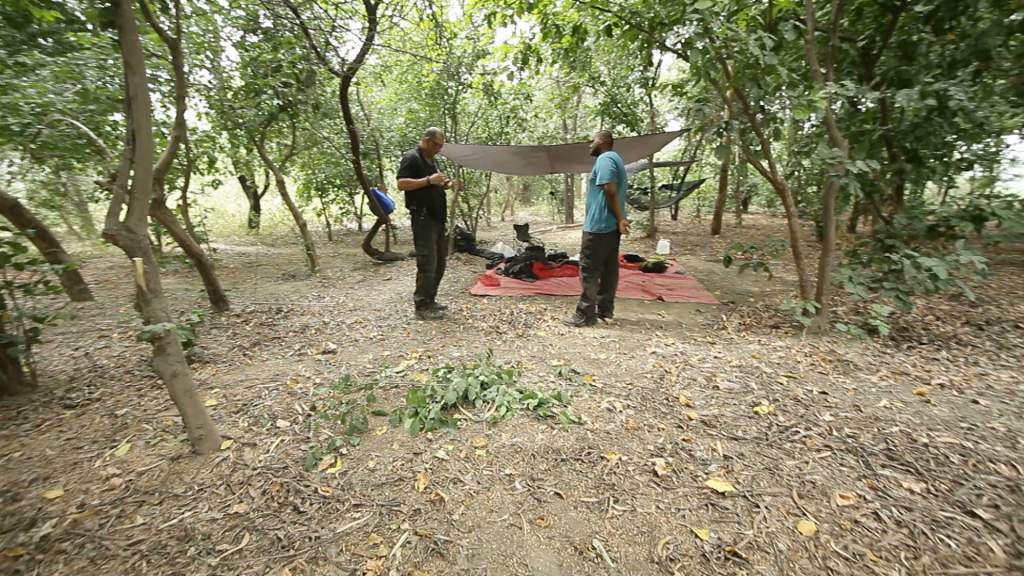 Participating in the Eagles Survivor Course will teach you concepts in addition to those learnt in the Falcon Basic Survivor Course. It is assumed that participants in the Eagles Survivor Course already possess the knowledge taught in the Hawks or the Falcons Basic Survivor Courses. This 5-day 4-night Course has both practical as well as classroom type training, but the topics are more intense than the Basic Courses and take off from them. This Course also trains participants to graduate from being just a survivor to becoming self-reliant.
The Course is conducted in a simulated survival scenario and comes built-in with the associated degrees of difficulty as far as food, water, shelter and sleep deprivation is concerned. Participants are taught how to overcome such situations and make the best of a difficult situation. Food has to be prepared with elements foraged from the environment or cooked with the provisions provided. Water has to be found, disinfected/purified before drinking. There are night-time tasks that have to be completed.
This is not an adventure weekend, but an intense an aggressive skills learning Course.
Who can participate?
Anyone over 18 years of age can participate in the Falcons Course. Basic levels of fitness are required since the Course is physically demanding. However, mental toughness is also called for, since participants will be outside their comfort zone for more than 100 hours. Food and water deprivation coupled with the lack of sleep - either forced or brought on by circumstances - will ensure that mental fatigue sets in fast. Participants have to be prepared to rough it out and take control of adverse and trying conditions.
Under-18 participants
In certain cases, children below the age of 18 years can participate in an under-18-only Course. These are either organised through Schools or as camps. In either case, supervising adults are mandatory. There has to be one supervising adult for every ten participants - ten is the minimum number of participants for the under-18 Course.
How does the Course run?
Arrive at Camp by 8am on the first day of the Course
Bring all listed equipment
Get safety instructions
'Classroom' sessions explaining skills throughout the duration of the Course
Practical demonstration of skills
Modules of the Course (more advanced than the Basic Course)
Basic kitting for survival
The 7 Ps of survival
Shelter construction
Firecraft
Water purification
Navigation and cartography
Signalling tips and tricks
Improvised weapons and tools
Ropes and knots
Survival first aid
What should participants bring?
The following is a list of the items that have to be brought by each participant. These are all items that will be required during the Course.
Shelter
1 unit
Mylar blanket or Thermal blanket
Buy on Amazon
1 unit
Bivy tent or Hammock
Buy on Amazon
1 unit
Tarp sheet (at least 10'x10' with 16 grommets)

Buy on Amazon

Fire
1 unit
Small magnifying glass

Buy on Amazon

1 unit
Ferrocerium rod or MagBar
Buy on Amazon


Buy on Amazon

2 units
Disposable cigarette lighters
Food
1 unit
Mess tin (optional in case canteen has no nesting cup)
Buy on Amazon
1 unit
Metal cup
Buy on Amazon
1 unit
Cutlery tool (if you do not want to get your fingers dirty when eating)
Buy on Amazon
Water
1 unit
Metal canteen (with nesting cup preferably)
Buy on Amazon
1 unit
Filtration equipment (LifeStraw or Mini Sawyer or equivalent)
Buy on Amazon
Buy on Amazon
Signalling
1 unit
Signalling mirror
Buy on Amazon
1 unit
Whistle (preferably multipurpose)
Buy on Amazon
1 unit
Headlamp
Buy on Amazon
1 unit
Flashlight
Buy on Amazon
Navigation
1 unit
Compass (Sighting or Lensatic)
Buy on Amazon
Tools
1 unit
Knife (8"+ blade, full tang)
1 unit
Folding Saw or Commando Saw
Buy on Amazon
1 unit
Swiss Army Knife (optional, but good to have)
6 units
Heavy duty garbage bags (preferably bio degradable)
50 feet
Paracord
Buy on Amazon
Personal items
1 unit
Bandana or Shemagh
Buy on Amazon
2 units
Half sleeve T-shirt
2 units
Full sleeve T-shirt (optional in summers)
1 unit
Warm jacket (not required in summers)
1 unit
Cap / Hat
1 unit
Poncho
Buy on Amazon
1 unit
Camp towel
1 unit
Cargo trousers
1 pair
Boots with ankle support
1 pair
Slippers or floaters
2 pairs
Socks
1 pair
Sun shades
1 tube
Sun block (SPF 15)
1 bottle
Hand sanitiser
1 roll
Toilet paper
Personal medication
Notepad and pen
In case you want us to arrange for the items let us know at least two weeks prior to the commencement of the Course and we will organise them for you. You can either buy the items or rent them for the duration of the Course.
Number of participants required to run a Course
There is a requirement of a minimum of two and a maximum of twenty participants to run the Falcons Course. Since the Course does not run on fixed dates, it is advised that a group of like-minded people form the quorum so that the Course can be run. In case there are other interested people, without adequate numbers, two or more such groups may be combined for a Course.
If you are interested to participate, fill the form below and let us know.