OTA Survival School has a MISSION 2030 that it is working towards ... that of preparing, training and equipping at least five million citizens of India by the year 2030. We have a little over ten years to go. If that ambitious figure has to be achieved, then we will need to train about 25,000 citizens, every day, for the next five years. Impossible it is not if we can network together and work diligently towards making India and its citizens more capable, more self-assured, more capable of taking care of themselves and their loved ones, armed with the knowledge and skills to be able to face a self-reliant situation. Trouble happens and it happens quite frequently. However we may wish, disaster does not always strike the other person.
With almost a billion and a half people living in 29 States and 7 Union Territories, spread across more than 600,000 villages, spanning 674 Districts, it is necessary to network with like-minded individuals and organisations to further the cause and reach the goal of a trained India. We reach out to you to join hands in the effort. Join OTA Survival School as a franchisee partner in this mission and make India a safer place and Indians a more capable citizenry.
The Vision and the Mission
The Vision is to empower each and every citizen of the country so that not even one life is lost due to lack of the necessary skills. We do not believe that a person should die of a heart attack without being administered essential CPR. No one should choke to death. No one should get ill by drinking contaminated water. No one should sleep in the open, exposed to the elements. India has almost a billion and a half people. Our mission is to start with a manageable target over the next five years ... to train at least one million people and thereby start a cascading effect across the entire population.
Who can become a franchisee partner?
Anyone can become a franchise partner as long as they share the same passion about safety for our citizens, and consciously want to do something about it. If you are from an adventure travel background, it will make life a little easier, since you already recognise the need for the kind of training OTA Survival School provides. Unlike most other partnerships, there is no minimum requirement of staff, office space, infrastructure requirement, location preference, etc. India is a country with almost 700 districts ... so you could be based anywhere in the country, responsible for the population in your region.
You do not necessarily need to be registered as a not-for-profit organisation to become a franchise partner, but being a social effort it is preferable.
The benefits of becoming a franchisee partner
The benefit of becoming a franchise partner is to be involved with a socially relevant cause. OTA Survival School is essentially about skill development, something that is a pet project of the Government of India. With more and more citizens learning to take care of themselves, it reduces the load on the administrative machinery in times of crisis. We also have a plan to start Citizen Disaster Survival Forces in eco-sensitive villages all across the country so that they can become self-sufficient in times of calamities and disasters. We hope that with increasing number of partners across the country, the OTA Survival School family will become a force to reckon with when disaster strikes and will work hand in hand with the Government conducting rescue and evacuation. The franchise partner would be joining hands in this effort.
The support you will get
The franchise partner is an integral member of the OTA Survival School family and is the face of the School in the regions it represents. Hence it is imperative on our part to extend to you all the support necessary. Specifically, you can expect the following support:
1.   Training of two individuals to become Master Trainers
2.   Certification of Master Trainers to be able to train Assistant Trainers
3.   Development of Course Curriculum for all the Courses
4.   Refresher meets of Trainers to share knowledge, learnings and skills
5.   Annual meet to recognise achievements
6.   Annual adventure holiday for high performing individuals
7.   Local marketing and promotional support
8.   Retail store of survival gear and equipment.
9.   Official mention in your website as a OTA Survival School partner
10. Mention on OTA Survival School website as a partner
Territory exclusivity
India comprises 674 Districts. We are looking for a partner in each District of India. The franchise partner will retain exclusivity for the District they have been empanelled for. However, some Districts are larger than others and the potential universe of people that can be trained is larger. In such Districts there might be more than one franchise partner. However, the first partner will retain the first right of refusal before subsequent partners are empanelled.
The franchisee model
The model is based on a revenue sharing basis. There are rates available for each Course, product and service. There is a certain direct expenses as part of any Course, product or service. The gross margin after deducting such expenses will be shared between the franchise partner and OTA Survival School in a 75:25 ratio with 75% going to the partner. For instance, if a particular Course is offered at Rs 2,000 and the direct costs are Rs 1,300, the partner will retain Rs 525.
The franchisee process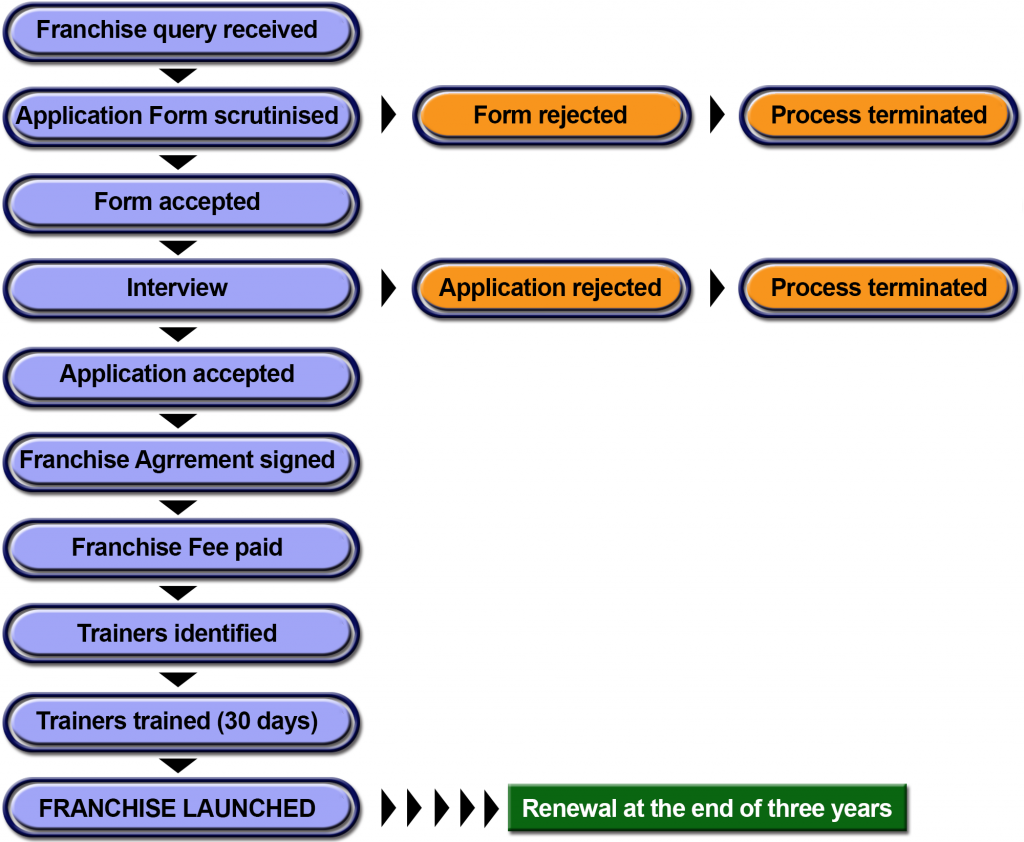 The revenue potential
Very few individuals in India are trained in the skills of survival. Consequently, the potential to conduct training is tremendous. Also, we envisage a day when no adventure resort can commence without having its staff certified in survival skills. If someone wants to become an adventure guide, s/he would first have to get certified in survival skills. Since OTA Survival School is the only such organisation providing such training in India, the potential is limited by only the number of Master Trainers and the number of hours in a day. Additionally, with more than 600,000 villages in the country, the number of partners required to train members of the CDSF is huge. There is no doubt about the potential for revenue generation is huge for each and every franchise partner.
Contact us to become a partner